BitlyBot - Minimal Telepresense
Overview
Pete needed a telepresense robot, but they all seemed way too expensive and complicated and hard to buy. He asked me to make one. BitlyBot is a little different than its competitors.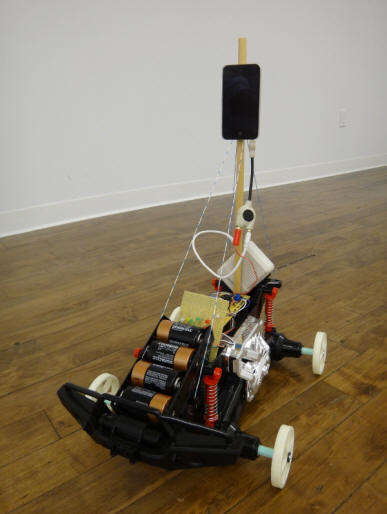 What's different?
| | |
| --- | --- |
| Commercial Teleprensence System | BitlyBot |
| "underlying technology is very sophisticated" | so simple, a child could build it |
| "is continually connected to a purpose built cloud-computing network that keeps track of its availability and initiates telepresence upon request by a remote user" | uses Facetime or Skype or any other system that can transmit sounds |
| "Handheld Remote Control... for specialized applications... Also sometimes used to enter configuration data" | uses any vintage telephone or answering machine dongle to generate touch tones |
| "starting at under $6,000 plus an annual service contract (about $100 a month)" | buy me dinner in brooklyn sometime |
| "lasts more than 6 hours between charges" | The motor batteries so far last more than a month of normal use. The ipod battery lasts at least a week since it is sleeping most of the time. |
| "an integrated solution that includes custom engendered robotics controllers paired with a network high powered embedded control systems" | a handful of LEDs and a few relays. and some wire. |
| "Built by leading electronics manufacturer.... for highest quality and lowest cost" | Um... Built here. |
Notes on How BitlyBot Works
Controller Side: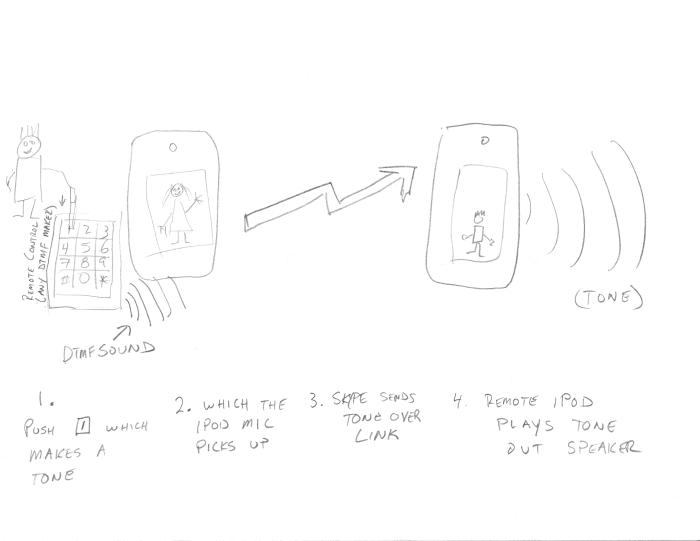 ---
Robot Side: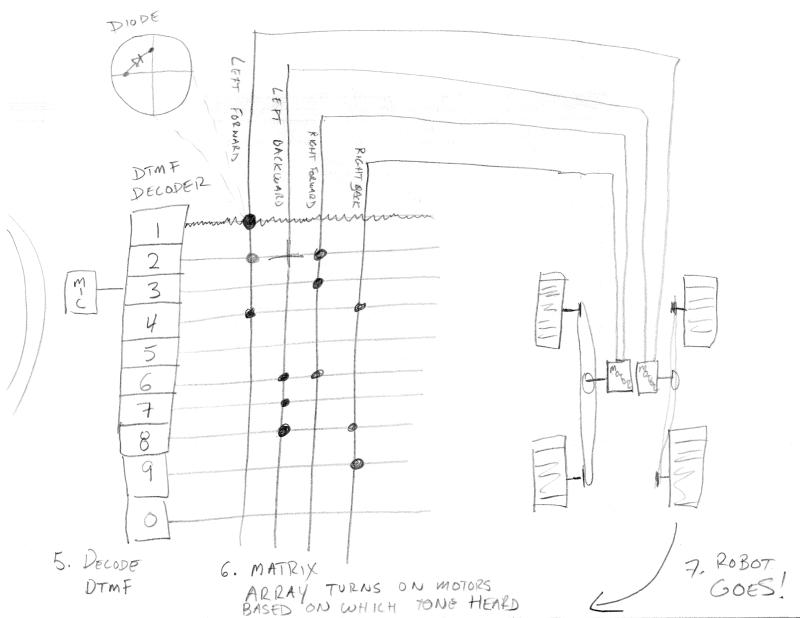 The Body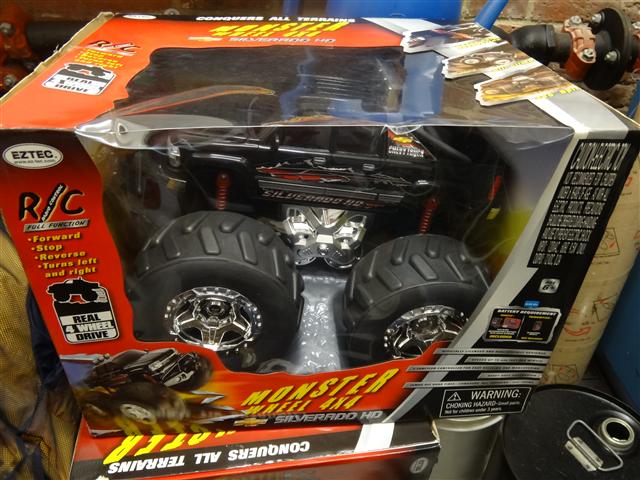 Shunned by Radio Shack x-mas shoppers, I was able to pick up a few of these RC trucks for $40 each.
They turned out to be perfect for robotizing because they have 2 motors - one for each side. Skid-steering is easy in binary.
The Brain
What is brain?
BitlyBot uses a Bi-Dimensional Programmable LED Logic Matrix to map the touch tones into actual motor action. See it in Action!...
Updates
| | | |
| --- | --- | --- |
| 7/10/2012 | - | First published |
| 7/30/2012 | - | Added schematic drawings |
Support
For support, please email me at...